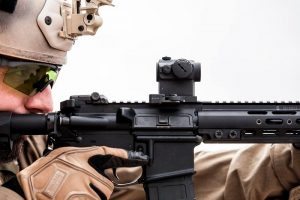 So you've decided on a dot sight, but which one? To help with your decision, here are the best red dot sights for your AR-15 (or any rifle) no matter how much – or how little – green is in your wallet.
Last Updated: June 21, 2018
(NOTE: This article is part of my "Best in Class" series where I list the top choices for various parts of your AR-15.  You can find the other parts here: Best in Class Articles.)

NOTE #2: I omitted the Eotech Holographic sights for two reasons.  The first reason is Eotech sights are flawed, and you can read about the flaws on Eotech's website. More importantly though, Eotech knowingly sold defective equipment to our military and Law Enforcement.  Eotech discovered the flaws in 2006, but covered them up for almost a decade.
I would NEVER buy an Eotech because I think that's absolutely despicable.  Plus, they've already covered up problems once, so I can't trust them to be honest about flaws in the future.
The Best Red dot Sights
FYI: If you buy after clicking most of the product links on this page, I'll make a few pennies out of each dollar you spend.  It's not much, but it keeps the website going and I would appreciate your support. 🙂
Table of Contents: (click to jump to that part of the article)
The Reigning Red Dot Sight Champion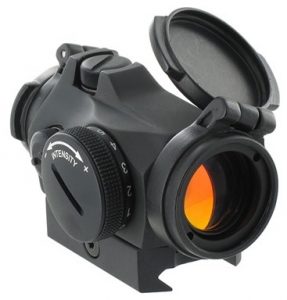 For a very long time, the Aimpoint Micro T2 (and it's predecessor the T1) stood unchallenged as the king of the compact Red dot sight world.  It was the undisputed holder of the "best red dot sight" title.
To give you an idea just how completely it dominated the market, whenever someone released a new compact Red dot sight, everyone's first question was "How does it compare to the Aimpoint Micro?"
The Aimpoint T1/T2 literally set the bar by which every other optic in it's class was measured.
You can freeze it, drop it, throw it, hit it with a baseball bat, or do all manner of other abuse and it still works.  You can even submerge it to 25 meters (83 feets) and it still works.
There are scores of torture tests videos on YouTube abusing the T1/T2 in ways that are painful to watch sometimes. No matter the test though, the Aimpoint takes a lickin' and keeps on ticking.  (Want an optic that will still work after being dropped out of a helicopter?)
It takes real, intentional abuse to kill one of these, and it's not easy even when you're trying to.
The T2 makes engaging targets at close range a breeze and it's lightning fast.  At only 3.4 ounces, it gives you all the advantages of a larger red dot sights, but keeps the weight down and won't make your rifle top-heavy. Plus, it's precise 2 MOA dot and 1/2 MOA adjustments allows you to engaging targets as far out as you can see them.
The battery life is just insane at 5 years on setting 8 (of 12 total, 4 of which are night vision compatible)  Most people just leave it on and change the battery every few years.  That way, it's always ready to go when you need it.
You can get it with a low mount, but I recommend getting it without the mount and buying one separately.   I recommend the ADM absolute co-witness mount, or the more expensive (but better) Bobro mount.
Honorable Mention: The Aimpoint Comp M4 & Comp M4S

(The M4 and M4s are the same sight except the M4 has a high battery mount and the M4s has a low battery mount.)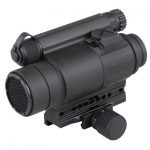 Everything I said about the durability of the T2 applies to the Aimpoint Comp M4 and the Comp M4s.  In fact, many say that the M4/M4s is even more durable.  I'm not sure I fall into that camp, but it does speak volumes about just how reliable this sight truly is.
Oh, and it's a standard issue military optic.
This sight is a beast.  At 9.3 ounces it's the second heaviest optic on this list.  However the battery life is an insane 7 years with an AA alkaline or 10 years with a AA Lithium battery.  If you're a prepper or worried about a SHTF scenario, I would take a hard look Comp M4/M4s.
I personally think the T2 (or MRO below) does basically everything the M4/M4s does in a lighter, less expensive package.  But that's me.
The Overall Best Red Dot Sight on the Market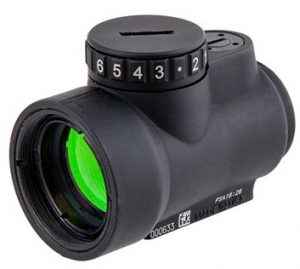 If the Aimpoint Micro T2 is the reigning champion, then the Trijicon MRO (Miniature Rifle Optic) is the challenger – and likely successor – to the throne.
Trijicon makes the ACOG for the military and it's widely regarded as one of the most rugged, durable, and all-around bombproof optics currently made.
They are just stupid tough.
Seriously, if you thought the Aimpoints were hard to kill, you should try breaking an ACOG some day.  (Hint: it'll be a long day.)
The MRO was made with the same durability in mind.
You can search YouTube for torture tests, but it passes all except the most gruesome tests. (like shooting it with a shotgun)  It's already developing the same reputation that the Aimpoint T1/T2 and ACOG enjoy.
One cool thing: The lens facing downrange is larger than the lens facing your eye, meaning the MRO doesn't give the  "looking through a tube" feeling.

Of course, if you're using any red dot sight with both eyes open (like you're supposed to) this won't matter as much.  But most people don't.
Battery life is just as good as the Aimpoint T2, and according to Trijicon MRO FAQ page:
The MRO® battery should last for 5 years of continual use at setting "3" (5 of 8).

Even better, there's an "off" setting between brightness 2 and 3.  You'll use those two settings most often, so getting to them in one click is better than having to cycle through 4 or 5.  Of course, you could just leave it on and change the battery every presidential election…
One of my biggest pet peeves on optics is too many brightness settings.  Seriously, the scope on my AR-15 has 12 and I think I'd be fine with half that number or even less.  Trijicon got this right.  The MRO has 6 brightness setting plus 2 Night Vision settings.  That's plenty of options for the dot's brightness and covers basically any lighting condition you'll encounter.
Speaking of the dot, it's just as precise as the Aimpoint at 2 MOA with 1/2 MOA adjustments.  The adjustment knobs are capless and you can adjust them with a small coin or the rim of a cartridge. The body is made from 7075-T6 aluminum and is submersible to 100 feet, slightly deeper than the T2.
The only downside – and it's very tiny – is the very slight blue tint to the lenses.  It's slight enough that you probably won't notice it too much unless you're looking for it, and it certainly shouldn't be distracting.
All thing considered, I think the Trijicon MRO is the best red dot sight you can buy right now.
It's definitely the one I'd recommend.
Trijicon MRO vs Aimpoint T2
These two will probably be competing for the "best Red dot sight" title for years to come.
If you're wondering how they stack up against each other, I found a video on Youtube that should help you compare them. (and no, it's not me.)  Starting at the ~58 second mark, there's a clever first person video that shows you exactly what it's like to look through both of them.  🙂
Personally, I would go with the MRO.
(Call of Duty fans, it looks like the game come to life.)
The only other thing I'll mention is that Aimpoint builds all it's optics overseas and ships them here.  By contrast Trijicon does things differently:
"The vast majority of Trijicon products, including all ACOG®, RMR®, Reflex, MRO®, Night Sights, SRS®, VCOG®, TARS®, CCAS® and Archery Sights are designed, engineered, machined and assembled at our facility in Wixom, Michigan and are therefore 100% Made in the USA."
I like to buy American made products whenever possible.
Cheapest "Battle Ready" Red Dot Sight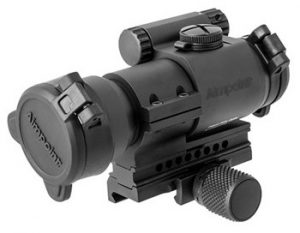 Any sight that bears the Aimpoint name is going to be a great choice.  Aimpoint's "budget" red dot sight: the Aimpoint PRO (Patrol Rifle Optic) is no exception.
And by "budget" I do not mean it's cheap or low quality.  Quite the opposite in fact.
At almost $450, its not exactly a budget option.  Weight (13oz) and size wise it's closer to the Comp M4 than the sleek and lightweight T2 or MRO.  And it "only" has a 3 year battery life compared to the 5+ years of the T2 and MRO.
But Aimpoint makes it.
That means it ridiculously tough. It's water proof to 150 feet and lives up to their reputation for EXTREME durability and reliability.  Plus, it's less than half the price of a Comp M4. (which it's closest to in size/weight)
The Aimpoint Pro is also the cheapest true Battle-Ready Optic on this page. 
Not that the two red dot sights below aren't durable (they are) but they're not in the same league with Aimpoint and Trijicon.
They just aren't.
I wouldn't take the two optics below to war because they might not hold up in combat.   I have no such reservations about the products that Aimpoint and Trijicon make.  When your life is on the line, you can't take a chance that a cheaper optic will fail.
The Aimpoint PRO has a precise 2 MOA dot and 10 brightness settings, 4 of which are Night Vision compatible.
Best Budget Red Dot Sight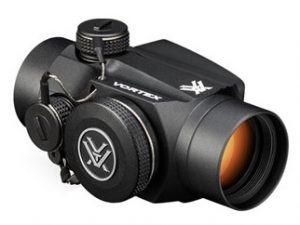 Remember those old Nokia phones that were seemingly indestructible?  You know, the ones you could run over with a 20 ton truck and they'd still work?
Well they made the Vortex Optics SPARC II in the same mold.
(Or, at least in a red dot sight shaped version of that mold.  You know, without the actual phone part, and with different electronics, and…  Lets just say it's pretty durable because this comparison is breaking down fast. 😉 )
I want to be 100% clear, it's not as durable or bomb proof as the Aimpoint or Trijicon offerings listed above. 
It's not even in the same league as those top optics.  However, it can take an huge amount of damage and still work.  As proof, look at Recoil Web's torture test.
Freezing, heating, sticking it a fire, baseball bat style hitting a tree, and even shooting it with a 22LR.  It took an LOT of torture to kill it.  (They finally killed it by sticking it in a microwave, I guess they wanted a hot review 😉 )
This is my pick for the best red dot sight for home defense if you're on a budget.
Durability aside, it's a pretty basic red dot sight.
The dot is 2 MOA and two buttons on the left side control the 10 brightness settings, 2 of which are NV compatible. The battery is a standard CR2032 which lasts 300 hours on the brightest setting and about 5000 hours (over 200 days) on the dimmest setting. It also auto-shuts off after 12 hours so you don't have to worry about a dead battery if you forget to turn it off.
If the torture test didn't give you peace of mind about this optic, then Vortex Optic's VIP warranty should:
"VIP stands for a Very Important Promise to you, our customer. We will repair or replace your Vortex product in the event it becomes damaged or defective—at no charge to you. If we cannot repair your product, we will replace it with a product in perfect working order of equal or better physical condition.

You see, it doesn't matter how it happened, whose fault it was, or where you purchased it. You can count on the VIP Warranty for all Vortex Optics riflescopes, prism scopes, red dots, rangefinders, binoculars, spotting scopes, tripods, and monoculars."
Now that's what I call a warranty! 😀
Best Red Dot Sight for Shoestring Budgets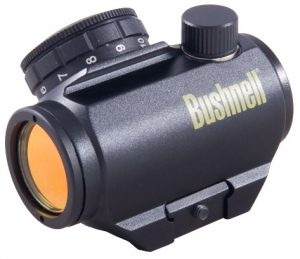 If you want a good cheap red dot sight for some fun rifles or maybe hunting, the Bushnell Trophy TRS-25 is a great choice.
Its pretty tough.  It's not Aimpoint tough and ort Vortex SPARC II tough, but it's tough enough to mount on a shotgun and knock it around a bit.  It's certainly WAY better than the usual "good for airsoft and nothing else" products that dominate the $100 (and under) optics market.
The Bushnell TRS-25 is the cheapest red dot sight that's tough enough for a real gun. 
I wouldn't use it for combat or self defense, but I'd happily put it on a rifle for plinking.
I wouldn't use the TRS-25 for home defense because of the battery life.  To be suitable for self defense, I think an optic either needs to have insane battery life (like Aimpoint or Trijicon) or an auto shut-off feature.
Insane battery life is better.
I've forgotten to turn off my TRS-25 before and found it dead the next time I picked it up.  At the range it's annoying, but in a self defense situation it could be deadly.  So I would use something with much better battery life or an auto shut-off.
NOTE:  If you want the TRS-25 to co-witness with your iron sights, you'll need a riser.  This $10 mount from Amazon is the correct height.  (It requires a 0.83″ riser, which aren't common.)
Conclusion
Personally, I only use red dot sights at very close range because of my eyes.  I have an astigmatism which makes the red dot look less like a dot and more like a photon torpedo from Star Trek.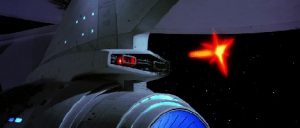 And yes, that's what most red dot sights look like to me.
Needless to say, I have accuracy issues at longer ranges.  At close range they still work perfectly fine for me though.
If you have the same problem with your eyes, I recommend checking out my Best AR-15 Scopes for any Budget article instead.  A 1-4 or 1-6 power scope can be almost as fast as a red dot on 1x and you'll be able to see the crosshairs clearly
Anyway…
If you have the money, I would get the Trijicon MRO because I think it's the best red dot sight on the market right now.  The MRO just as awesome as the Aimpoint T2 but much less expensive.
(I know the top-tier sights are expensive, But remember it's better to "buy once, cry once" because it's cheaper in the long run.)
If the MRO is just out of your reach and you want something for home defense or duty, then I'd get the Aimpoint PRO.  If that's too rich for your budget, then the Vortex SPARC II.  It's not a T2 or MRO, but it should work for home defense.  (I wouldn't use one for duty/military.)  The SPARC II is also ideal for a general fun gun and you just can't beat their warranty.
If you want to put a red dot sight on a lot of guns, I recommend the Bushnell TRS-25.  It's cheap, works well, and is perfect for mass-buying for multiple rifles.
And that's all from me.
Go forth armed with knowledge and put the best red dot sight you can afford on your rifle.