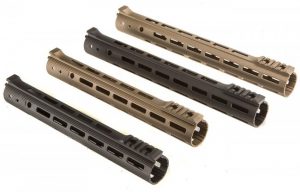 I learned a lot working as a gunsmith/manager at a local gun store and I've installed a lot of free float rails.  Unfortunately, many didn't live up to the hype. To help you avoid buying a lemon, we'll cover the best (lightweight) free float rails for your AR-15 in this article.
Getting good equipment shouldn't be hard, and hopefully this will help you do it without breaking the bank.
(NOTE: This article is part of my "Best in Class" series where I list the top choices for various parts of your AR-15.  You can find the other parts here: Best in Class Articles.)

Why get a Free float rail?
A good free float rail is a GREAT upgrade for any AR-15 (that doesn't already have one).  The best thing about free float rails is they reduce inaccuracy.  Notice I didn't say they "increase accuracy".  There's a very good reason for that.
Non-free float rails put the handguard in contact with the barrel.  Whenever you apply pressure to the handguard, that same pressure is also applied to the barrel.  The barrel guides the bullet, so anything that moves the barrel will also change the path of the bullet.
Simple right?
The trouble is, the barrel probably won't be affected the same way every time.  If the barrel is pushed in a different direction every shot, then the bullet will be too.  That leads to inaccuracy.  Inaccuracy is the path to the Dark Side.  Inaccuracy leads to misses, misses lead to anger, anger leads to hate.  Hate, leads to…  new anti-gun laws…?
Or something?
Anyway, getting back on track.
A free float rail helps by making sure nothing touches the barrel. (Well, except the gas block.  But it doesn't affect the way the barrel moves so you can safely ignore it for accuracy purposes.)  Because nothing touches the barrel while the rifle is firing, you can get the greatest possible accuracy.
The other big advantage is having a place to hang "stuff" on your rifle.
You know what I mean.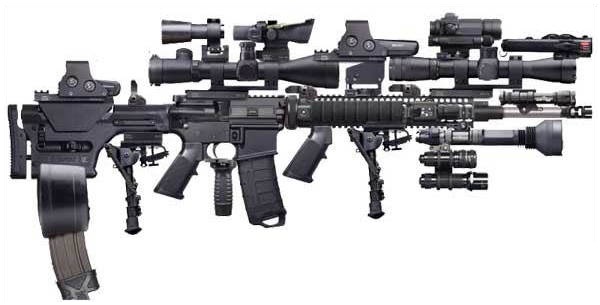 Yeah, that stuff.
KeyMod vs MLOK (vs Picatinny)
Put simply, MLOK is better.  Why?  The US SOCOM (Special Operation COMmand) sponsored a test that was conducted Naval Surface Warfare Center.  The result are explained in this article, But the picture below should make the results clear: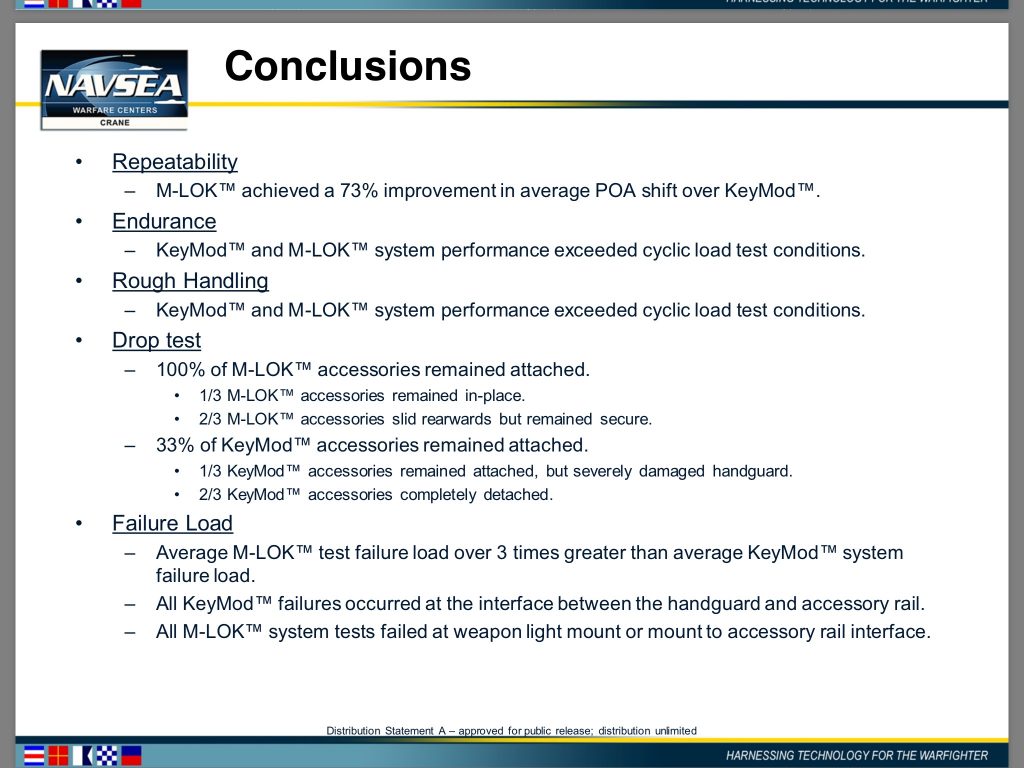 So yeah, M-LOK is better than KeyMod.
Picatinny doesn't fare well by comparison.  It's strong and is the leading way to mount optics, but they're heavy and often have edges that can take the skin off your hands.  They're still the most popular way to mount sights/optics though, so having enough on a rail to mount Back Up Iron Sights is good.
The Best AR-15 Free Float Rails:
FYI: If you buy after clicking most of the product links on this page, I'll make a few pennies out of each dollar you spend.  It's not much, but it keeps the website going and I would appreciate your support. 🙂
Without further ado, here they are.
Best Overall – ALG EMR (V1-V3)
I like the ALG EMR (Ergonomic Modular Rail) so much, it's the free float rail on my personal, custom-built (by me) AR-15.  I will try to be unbiased, but you're reading this because you want my opinion right?
No?
Okay, I'll write for the bots then. 😉
It comes in two versions;
Fun fact: ALG is a sister company to Geissele Automatics.  If you haven't heard of Geissele Automatics, then check out my article on the best AR-15 triggers.  Basically, Geissele makes the best triggers on the market (in my occasionally humble opinion.)
What's so great about the ALG EMR?
First, it's very comfortable.  It has slightly raised ribs which give it a nice grip texture.  They are fairly subtle though, so there's no chance of them ripping up your hands or catching anything. (And honestly, you feel them more than see them.)
Second, the rail itself has M-LOK slots up and down the sides.
These serve two functions, the first one obviously being a way to mount any accessory your heart desires.  Less obviously, they allow air to pass around the barrel so it can cool.  I've use AR-15 with tubular hand guards and no holes; they get warm fast.
Third, it's very lightweight.  While it's not the lightest handguard on the market, it ranks among the lighter aluminum handguards.  This partially because it VERY slim.  I have tiny hands and I can fit all my fingers around it. (at least on the part without the Picatinny rail)
Fourth, integrated QD swivels.  On both sides, there's a hole sized for standard QD swivel. This is great if you prefer a two or three point sling because it doesn't require adding a QD attachment point to the rifle's front end.
That's a great feature. 🙂
The rail is made from 6061-T6 aluminum.  Basically, it's what they typically make airplanes from. (which is why some people call it "aircraft grade" aluminum).  The T6 suffix means it's been tempered.  The barrel nut is machined from 7075-T6 Aluminum, which is nearly twice as strong as 6061.  (It's also what they make AR-15 receivers from.)
The rail is hard coat anodized for a durable finish.
Installation is pretty easy and it comes with instructions, but does require you use the AGL barrel nut wrench.  Fortunately, it's only $5. (okay, you also need a length of pipe to provide leverage on the wrench, but who doesn't have one of those laying around?)
All told, The ALG EMR (both the V2 and the V3) are great free float rails.
It's also my pick for best overall choice for most people.  You can get more expensive rails, but they offer very little more than the ALG EMR.  You can get cheaper rails and they'll work, they just won't be as nice.
Best Budget Rail – Fm-9 Free Float Rail

I generally don't like getting "budget" items.  I've found that paying a little more for a quality item once is typically a better way to go.  However, if you don't have the budget for ALG EMR, this is a good option.
The Foxtrot Mike FM-9 is a pretty standard M-LOK free float rail.  At the 3, 6, and 9 positions are the M-LOK slots and the top has a full length Picatinny rail for mounting optics or Back Up Iron Sights (BUIS). (and I have an article to help you pick BUIS)
The rail mounts to their barrel nut (included) via eight screws which clamp it down.  This is my absolute favorite method of attaching a free float rail.  I've seen a lot of methods, but this is easily the simplest and most secure.  As an added bonus, it doesn't require a special wrench to install.  A standard 1-1/8 box end wrench will do it. (and possibly even an adjustable crescent wrench)
You will need to "time" the barrel nut.
Unfortunately, it doesn't come with any barrel nut shims, which you really need to ensure it is timed properly. Fortunately shims are very cheap, and this set should work perfectly.
The FM-9 free float rail is a good rail, but there's nothing special about it… except the price.

It's a pretty good rail, but I would spring for the ALG EMR instead if you have the coin.
YHM Quad Free Float Rail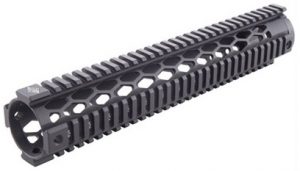 Okay, I have a confession.  I really HATE quad rails.  Compared to the newer M-lok and KeyMod options, they are extremely heavy, large and the rail slots cut into my hands more than I like.
However…
There are still few die hard quad rail fans out there (including one of my brothers) so I'm including one on this list.
My pick is the YHM Quad free float rail and there's not a lot to say about it.  I installed a several while I was working as a manager and gunsmith at a local gun shop.  They work well and mount rock solid when properly installed. They do require an AR-15 armorer's wrench to install. (a set of barrel nut shims isn't a bad idea either.)
Um, yeah. That's about it.
If you like quad rails this is the one I'd pick.  I HIGHLY recommend you get a slimmer MLOK rail though.  The world is moving that way and the skin on your hands will thank you.
Lightest Rail – Brigand Arms "Edge" & "Blade" Ultralight Handguards

For you "ounce counters", I've got one more. For a fifteen inch length, this handguard weighs a mere 5.01 ounces.  And yes, that weight includes the barrel nut.
5.01 oz
That's it.
Brigand Arms offers three variations on their ultra-lightweight handguards:
The handguard itself is made from carbon fiber, and the carbon fiber "wires" are interwoven to provide a place to put your hands.  The carbon fiber construction makes it extremely lightweight, very rigid, and extremely strong.   There are aluminum caps on the front and rear to protect the ends of the carbon fiber.
If you're trying to build the lightest possible AR-15, this is the way to go. 
The best part: you can attach a Brigand Arms Picatinny Rail section almost anywhere.  This makes it not only lightweight, but extremely versatile. If you want to co-witness Back Up Iron Sights (like the ones in my Best Back Up Iron Sights article.) they recommend their Atlas model.  The Atlas model has the rails machined into the end cap at the proper height for back up iron sights.  The Atlas' rails add about two ounces in weight though.
(And no, that's not my video)
One thing to note, they do require an AR-15 armorer's wrench to install, which you can get at the link.
Conclusion
There are a LOT of really good rails out there.  However, very few of them have any real advantage over the rails I listed.
It's nearly impossible to find a cheaper rail that works as well as the FM-9.
It's hard to find a rail that performs better than the ALG EMR without costing twice as much.  (you can get lighter in the Brigand rails, but they're more expensive.)
It's not really possible to find lighter than the Brigand Arms rails.
My vote for most people is the ALG EMR (V2).  I have an EMR on my $2400 AR-15 and I love it.  Those on a super tight budget will probably enjoy the EM-9, and ounce counters will love the Brigand Arms rails.
Those are my picks for the best AR-15 free float rails.