If Murphy's law didn't exist, then Back Up Iron Sights (BUIS) wouldn't be needed.  But when Murphy does strike, you can use these sights to keep yourself in the fight, hunt, or competition even if your primary optic goes down.
(NOTE: This article is part of my "Best in Class" series where I list the top choices for various parts of your AR-15.  You can find the other parts here: Best in Class Articles.)

The Best (AR-15) Back Up Iron Sights
FYI: If you buy after clicking most of the product links on this page, I'll make a few pennies out of each dollar you spend.  It's not much, but it keeps the website going and I would appreciate your support. 🙂
BTW, most of the Product links on this page go to Brownells because of their 100% Forever Satisfaction guarantee.  That's a guarantee I can live with. 🙂
If you aren't completely, 100% satisfied with any purchase you receive from Brownells, for any reason, at any time, return it for a full refund or exchange. No hassle, no problem. And, we won't bog you down in endless paperwork. Your complete satisfaction with each and every product we sell is what's most important to us.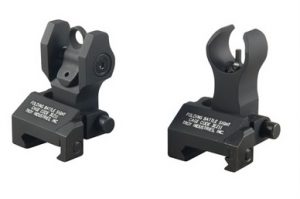 Anyone who's looked into back up iron sights will hear people – usually lots of them – recommend the Troy Battle Sights.
There's a good reason for that.
Troy built them to take quite a beating and still work properly.  While they aren't the lightest option, they are built like a tank.  Just looking at them you can see how thick the sights are for strength.
The sights are made from hard coat anodized 6061-T6 Aluminum and black oxide coated stainless steel.  Both are very corrosion resistant so rust won't be an issue.
They use a redundant locking system which uses both pins and a ratcheting wedge to keep the sights locked in the up position.  Just press the button on the side to release them so they can fold.  They don't lock when folded, so you can simply push them up and they'll lock automatically.
Normally, I'm not a fan of sights that lock because it's a little easier to break them.  However, these are built tough enough to not worry.
Tritium Version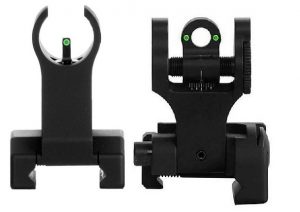 One of the best things about these sights is you can buy a tritium version.  The tritium version has inserts that gives you a standard set of three-dot sights (like most pistols) even in the pitch black.
Pardon the comic book reference, but: "In brightest day, in blackest night; no evil shall escape your (tritium) sight."  It doesn't matter the lighting conditions, your back up sights will function at any lighting level.
This is IDEAL and I don't understand why it isn't an option on all high-end back up iron sights.  It also makes these suitable for use as a primary sighting system if you prefer Iron Sights to optics.  Troy uses Tritium from Trijicon, so you know it's of the highest quality.
Unfortunately, The Troy Battle Sights are the only ones on this list that have the option for Tritium.
You can also grab just the front sight, or just the rear sight.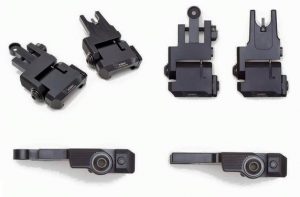 For those who aren't aware, Bobro Engineering makes some of the highest quality gear around.  Their optics mounts are such high quality that they are one of the few companies that compete directly with LaRue Tactical.
That's quite an accomplishment.
There are two incredible things about these Bobro Lowrider Sights.  First, they only weigh 1.7 ounces for the Pair.  That is ridiculously lightweight.  In fact, I don't know of any lighter all-metal back up iron sights.  If you are planning a lightweight build, these are a no brainer.
The second incredible thing is how thin they are.
At only two tenths of an inch (or 0.2″) these are some seriously thin sights.  They fit very well under scopes, scope mounts, and all manner of other things.
Bobro makes these from 6065-T6 Aluminum which is then MIL-8625 type III class 2 hard coat anodized.  I like Polymer for it's light weight, but these weigh less than even the Magpul MBUS sights and are metal.  In my mind that's an incredible accomplishment.
To further enhance their durability, a spring loaded detent keeps them in the up or down position.  Held by spring pressure is better than locked because locked sights tend to bend or break when hit unless they are pretty beefy (like the Troy sights).  A detent or spring loaded sight will just fold instead of bending or breaking.
If you run a scope on your AR-15, then standard back up iron sights won't work because if your scope goes down, it'll be dead weight blocking your front sight and target.  Offset back up iron sights are a GREAT way to handle this problem.

Simply roll your rifle 45 degrees like the picture above and you are good to go.  I thought this was a stupid idea until I actually handled a rifle with offset sights…
Then I fell in love with them.
And unlike the other sights on this page, offset BUIS are actually useful even if your primary optic works perfectly.
Example: In combat you have a low powered variable scope dialed up to 6x power for longer shots.  Then a bad guy pops out of nowhere about 10 yards away.  It would be too slow to dial down the scope's power or find him at that close range with 6x power.
So you simply roll your rifle 45 degrees and Voila!  Instant close quarters sight.  You could apply the same principle to a similar situation in hunting or 3-gun competition.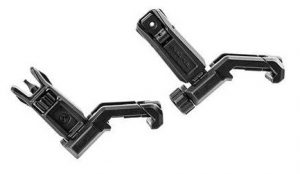 Arguably the best option for this type  of sight is the Magpul MBUS Pro Offset.  They are made of heat-treated steel and melonite finished.  Melonite is a finishing process that makes the treated metal almost impervious to the elements and rust/corrosion.
They mount easily to any Picatinny rail and are very low profile.  They should fit under almost anything.
The sight towers are held in place (whether up or down) by a spring loaded detent.  The detent is quite stiff by design, so you won't accidentally fold them up or down.
One great feature is you can adjust them without tools.
Most iron sights require a tool of some kind to adjust the front sight, but not these babies.  You can adjust the front sight with the built-in knob, which is stiff enough that you won't move it by accident.  Tools can get lost, so tool-less adjustment is a huge plus in my book.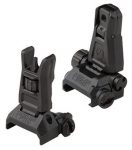 Magpul cornered the back up iron sight market back when they released the original polymer MBUS sights. (covered next)  However, some people don't like polymer on their rifles, so Magpul came out with another version; this time all steel.
The Magpul MBUS Pro are finished with a melonite surface treatment, which makes them very rust and corrosion resistant.  The process also case hardens the metal, meaning the exterior is very tough and scratch resistant.
As an added bonus, Magpul added some anti-glare serrations into these sights.  This is a clever idea which no other sights on this list use, but would help a lot in the bright sun.
At only 3/8″ thick when folded, they lay very flat on the rail.  It's hard to describe just how small these are.  The first time I handled them I almost didn't recognize them because I was expecting something bigger.  These things are tiny compared to most sights on the market and that leaves you with plenty of room for anything else you need.
Long Range Rear Sight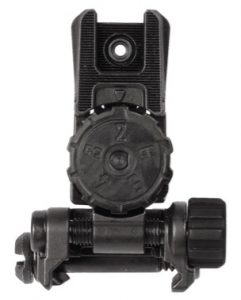 You can buy the MBUS Pro with the Long Range rear sight.  The front sight is the same, but the LR rear sight has an elevation knob you can use to dial for bullet drop at longer range.  You can set the Elevation adjustment wheel for 200-600 meter distances in 50 meter increments.
I think this is a really cool idea, though I'm not 100% sure how useful it is.  Obviously the additional function is nice, especially when it doesn't make the sight physically any larger. But I'm not sure how often you would have a chance to use it.
Remember they are back up iron sights.
If you have room in your budget, I would definitely get them because it's added function without any down side (except cost).
You can also get just the front sight, just the rear sight, or just the Long Range rear sight.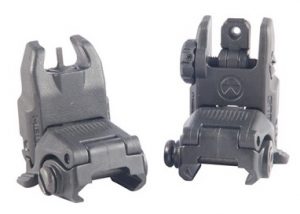 If you want a lightweight and low cost sight that can still take a beating, these are it.  The Magpul MBUS sights have basically cornered the entire budget BUIS market.  The reasons are obvious for those who have used them.  For those who haven't, they are very inexpensive, light weight, and tough.
Part of the reason they are so lightweight is they are made of polymer.  But we're talking high strength, high toughness, high impact polymer.  I talked to a fellow who mounted these on a .50 BMG rifle and they held zero even under that punishing recoil.
And, they also perform well in a drop tests.  The author of the drop test had this to say on his own personal blog.
One thing I did not mention in the post which was sent to KitUp (due to word count limitations) was that after dropping the MBUS twice, I picked the rifle up, held it over my head like the maul I used to split seasons' worth of firewood while growing up in Alaska, and swung it down on a concrete shooting table, with the MBUS taking all of the impact. It did not break or shift POI by anything more than 1MOA.
I wouldn't hesitate to put them on a fighting rifle
The Magpul MBUS are a great choice if you don't have a high budget.  However, you CANNOT mount them directly on the gas block of a rifle because the gas block gets hot.  (The polymer can soften/deform/melt if you shoot too quickly.)  Other than that, they are good to go.
You can also get just the front or just the rear.
Conclusion
There aren't a whole lot of AR-15 Back Up Iron Sights in this article, but that's because I wanted to list only the very best.  Any of the sights above I would be happy taking to war.  I prefer the Magpul offset BUIS because I currently use a 1-6 scope.  If you use a red dot or holographic sight, any of them should work perfectly.