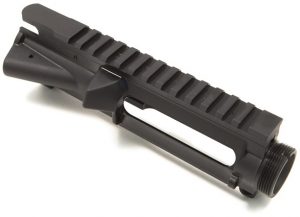 Because it's a high wear part, getting one of the best AR-15 Upper receivers you can afford is important… But they aren't expensive. In fact, one of my favorite uppers is very affordable.
You don't need to spend an arm and a leg to get a great upper receiver.
You can spend a LOT for something with all the bells and whistles, but for a range gun you don't need to.  Most people just need a good mil-spec upper anyway.  But I included some options below for those who like going the extra mile in their AR-15 builds.
The one thing you want to avoid at all costs is something cheaply made.  I made that mistake when I built my first AR-15 and ended up with a terrible upper receiver (made by SAA = stay away) .
I won't make that mistake again.
(NOTE: This article is part of my "Best in Class" series where I list the top choices for various parts of your AR-15.  You can find the other parts here: Best in Class Articles.)

FYI: If you buy after clicking most of the product links on this page, I'll make a few pennies out of each dollar you spend.  It's not much, but it keeps the website going and I would appreciate your support. 🙂
Gibbz Arms G4 Side Charging Upper Receiver – $240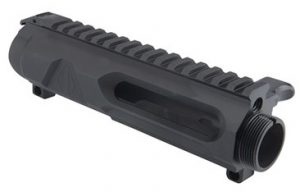 I've sunk about $2400 into my personal AR-15 and I currently use the WMD Nickel Boron upper (covered below).  But if I was doing it over again I'd use the Gibbz Side-charging upper because the advantages of left side charging are HUGE.
For starters, to charge a standard AR-15 requires moving your head from the stock or un-shouldering the weapon.  (Unless you want to hit yourself in the face.)
Second, when you have a scope mounted getting to your charging handle can be a slightly awkward.  I do list several that deal with this issue in my best AR-15 charging handles article.
Third, it's a real pain to get the bolt locked back without using two hands and unsholdering the weapon.  It's doable and made easier with things like the Magpul BAD lever, but not easy.
None of those are deal breakers, but they are annoying.
However, the biggest issue with the standard AR-15 charging handle is it's just not ergonomic.
For a right handed shooter (most of us) it's simply better and faster to use our support hand to charge a weapon.
That's where the Gibbz Side-charging upper comes into play. It adds a left side charging handle to your upper receiver.  The upper itself is made from 6061 Aluminum and Type III class 2 hard coat anodized per Mil–A-8625.
You can find a complete review here, I'm just going to hit the highlights.
It's non-reciprocating (meaning it doesn't move with the bolt) and provides an easy way to charge your AR-15 from the left side.  When the bolt locks back, an integral detent holds the charging handle so it won't slide around.
The best part: It doesn't require a proprietary bolt carrier group. 
Many of the other side charging upper require that you use their own BCG to function properly.  Not the Gibbz, just swap out your BCG's cam pin for the one that comes with the upper and voila!  You're ready to go.
It's a great functional upgrade, plus you'll save you $50-$90 bucks buying a high-quality charging handle. 
Speaking of, there's a small, spring-loaded door at the rear of the upper where the old charging handle used to be.  the door keeps dirt and debris while still making it easy to disassemble and reassemble the weapon.
WMD Guns NiB-X Upper receiver w/Black Topcoat – $143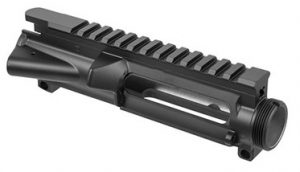 The WMD Guns Nib-X Upper receiver is the current upper on my ~$2400 AR-15.
WMD guns makes these upper receivers from forged 7075-T6 Aluminum (which is ideal).  However the best thing about this upper isn't what material they used to make it, but how they finished it.
It is plated inside and out with WMD's proprietary "NiB-X" coating, which is an improved version of standard Nickel Boron coating.  After plating, they give it a black topcoat on the outside only for color.
The advantage of Nib-X is the wear characteristics.
For starters, Nib-X is very hard.  It takes forever to wear out because it has a Rockwell hardness of about 70.  For comparison, that's a harder than Chrome plating.
Second is how slick it is.  NiB-X has a Coefficient of Friction around 0.06.  For some scale, Teflon is about 0.04.  This slickness (technically called "lubricity") means a smoother action and stuff just doesn't stick to it.  Like Teflon, it's incredible easy to clean.  I've cleaned Nickel Boron plated AR-15 Bolts with just a dry paper towel and my fingers before.
The third is corrosion resistance.  While nothing is corrosion proof, NiB-X is more corrosion resistant than Chrome plating.
Those features mean a few things:
Reliable, even with very little oil.  No gun should be run dry, but NiB-X will tolerate low/no oil longer than most.
Smooth, the hardness and slickness makes for a very smooth action. (My AR-15 is the smoothest I've ever felt.)
Easy to clean,  Mostly it just wipes clean.
I'll say right up front that Nib-X might be overkill on the upper receiver.  The standard type III hard coat anodizing is a great finish and has worked well for over half a century.  Do you need NiB-X?  No.  But it's a great choice if you want to go that extra mile in a high quality build.
Aero Precision AR-15 Upper Receiver – $85 Stripped – $100 Assembled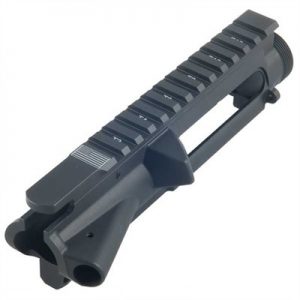 I won't say a lot about this one other than it's a VERY high quality AR-15 upper receiver that's made and finished correctly.
You can buy the Aero Precision upper in a Stripped Version with no upper parts or a Complete Version which has the parts kit already installed.
Aero Precision makes these from forged 7075-T6 aluminum and finishes them with MIL-8625 Type 3 Class 2 Hard coat anodizing.  The military requires that specific material and finish because they have both worked very well for over half a century.
This is probably the best option for most people.  Unless you're looking for something special, this is a workhorse upper receiver that would make an excellent foundation for any AR-15 upper.
Best AR-15 Upper Receivers Conclusion
An AR-15 upper receiver is one the most important and most overlooked parts of the rifle.  You NEED to have a quality one, but that's about it.
I love the feel of left side charging, so I would go with the Gibbz on a higher-end build. (I plan on upgrading my AR-15 with one when I get the time/money) The WMD guns Nib-X upper is great if you want to make cleaning easier.
Personally, I think most of my readers will be best served with the Aero Precision Upper.  It's a solid, high-quality and properly finished part at a good price.  I'm sure there's plenty of other Uppers that fit that description, but I know Aero Precision makes their uppers correctly.
That's why I recommend them.
(Remember this article is about the best AR-15 upper receivers, not the cheapest upper receivers.)