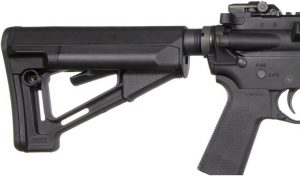 I realize that the best AR-15 stocks are partially a matter of personal opinion, but some stocks are a cut above the rest.
So to help you find one that fits your needs – regardless what those needs are – I've assembled a list of the stocks most worthy of your attention.
I won't pretend I've tried every AR-15 stock on the market.  And since someone releases a new stock almost every day (or so it seems) that would be almost pointless anyway.   If I haven't included your favorite stock, please don't take offense. There are plenty of high-quality stocks that aren't on this list.
Last updated: June 20, 2018
Covered below: (click the link to scroll down to that section of the article)
(NOTE: This article is part of my "Best in Class" series where I list the top choices for various parts of your AR-15.  You can find the other parts here: Best in Class Articles.)

Mil-Spec vs Commercial Buffer Tubes/Stocks
Not all AR-15 stocks fit all AR-15s.
The "Buffer Tube" (aka "receiver extension") on an AR-15 can be one of two different sizes: "Mil-Spec" and "Commercial".   They say a picture is worth 1,000 words so…
(Picture courtesy of LaRue Tactical)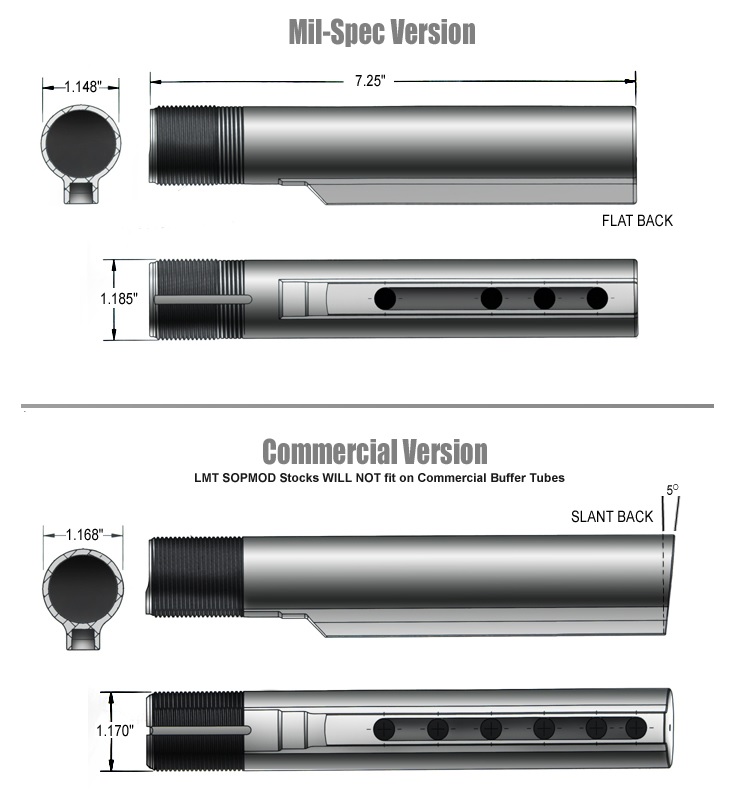 The Commercial tube is 0.020″ wider than a Mil-Spec, so Mil-Spec stocks will not fit on Commercial buffer tubes.  Commercial stocks will fit over a Mil-spec buffer tube, but they will be VERY wobbly and may not lock into position securely, if at all.
The easy way to tell them apart is by the end of the buffer tube.  Mil-spec buffer tubes have a flat back, Commercial buffer tubes have a slanted back.  There are more differences, but this article is about Stocks.  You can find more info here.
As a general rule, you'll have a wider variety of stock options with a Mil-Spec Buffer tube.
If you are building a rifle, I would definitely go Mil-Spec every time.  Don't despair if you have a Commercial buffer tube on your rifle though because many stocks are available in both versions.
Now that's out of the way, lets get going.
The Best AR-15 Stocks
FYI: If you buy after clicking most of the product links on this page, I'll make a few pennies out of each dollar you spend.  It's not much, but it keeps the website going and I would appreciate your support. 🙂
Best AR-15 Stock for the Money
The Magpul MOE stock is the least expensive stock I would buy. (Mil-Spec version here & Commercial version here) You can go cheaper, but they're usually flimsy, wobbly stocks that don't belong on a serious rifle. However, the MOE is a great stock at a great price.
It's simple, durable, fairly rugged, lightweight (8oz), and way better than the airsoft-quality plastic eyesores that usually come on a new AR-15.
One excellent thing is the location of the adjustment latch.  It's neatly tucked out of the way so you won't hit it accidentally.  And if you do, then you're just very, very special. 😉
There's honestly not much else to say about it, except that it's made in the good old USA. 🙂 I think it's the best AR-15 stock for a budget build, especially if you want to keep the weight down.
Best AR-15 Stock Overall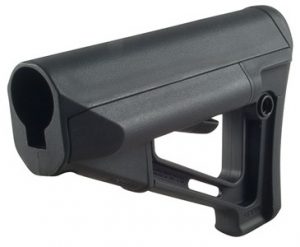 This is currently my very favorite Stock and my pick for best stock overall: The Magpul STR.  STR stands for "Storage Type Restricted". (you can find the Mil-Spec version here & Commercial version here)
You might've guessed from the name that it includes storage.  It will securely hold two (2) CR123A lithium or AA batteries in each of it's two water resistant storage compartments.  That's 4 total batteries, or you could store some small spare parts and/or earplugs.
It's not my favorite stock because of the storage though, that's just an added bonus.  It's my favorite because of the durability and comfort.
The Magpull STR is easily the most comfortable stock I've ever used. No exceptions.
I've shouldered a LOT of stocks, but this one is more comfortable than the rest for me.  The storage compartments give enough cheek real estate to be comfortable but aren't large enough to get in the way.  The angle is perfect for me and it just feels great.
Another big plus (for me) if the weight.  It's not a lightweight stock at 12.3 ounces, but it's a good weight to balance my lightweight AR-15.  It's in the Goldilocks zone: not too heavy, but it has enough heft to balance my (fairly lightweight) rifle well.
Not only is it comfortable, but it's also one of the strongest and most durable stocks on the market.
The Military Times did a test on the durability of various Adjustable AR-15 stocks and called it their "Buttstock Bashfest".  In their test, the STR placed second only to the nearly indestructible Magpul UBR. (which is about double the STR's weight)
In addition, the STR stock features a friction lock that prevents the stock from wobbling at all.  With the lock engaged, it might as well be screwed on…  but you can still adjust it quickly because using the adjustment lever automatically deactivates the friction lock.  Pretty cool feature.
Lastly, it has both standard QD swivel mounts and 1.25″ sling mounts like most high-quality stocks.
Lightest AR-15 Stock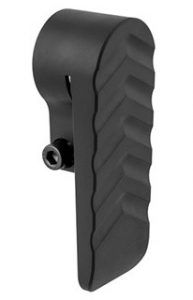 So here it is; the lightest AR-15 stock on the market (that I'm aware of anyway.) It almost feels wrong to call the Battle Arms Development Lightweight Butt Stock (BAD-LBS) a stock though. It's not adjustable and it clamps directly onto the back of the buffer tube.
The upside is ridiculously light weight.  At only 3.17 ounces installed, it's lighter than just about everything out there.  If you're looking to get the lightest rifle possible, this is a no-brainer.  A cool bonus is that it includes a QD mount.
Another point in it's favor is durability. They make it from 7075-T6 aluminum (which is stronger than some steel alloys) and it's design means virtually all the force from a butt strike will go into the buffer tube.  It should be very strong and you'd have to work to break it.
The downside is three fold.  First, it's expensive for what it is.

While the sole focus is reducing weight – and it does that VERY well – the price point is high.  Lightweight builds tend to be quite expensive anyway, so you might not have room in your wallet.  If the price is too steep, I suggest the next stock on this list.
The Second downside is it's not adjustable.
If you're a "nose to the charging handle" shooter you basically don't care.
However, you need to consider your optic's placement if you run a scope (I use a 1-6 variable).  Even using an extended scope mount, you'll probably need to pull your head back to get a proper sight picture.  I personally find that position very uncomfortable and would likely get a crick in the neck if I did it for a long time.
That said, on a truly lightweight build you'll probably be running a red dot sight anyway.
The third downside is balance.
While it will make your rifle very light, using this stock will push the balance point further toward the muzzle compared to "normal" stocks.  Depending on how light the front end of your rifle is, it *might* not be a big deal.  However, unless you've gone crazy lightweight on the front end it will probably make your rifle's balance worse.
Of course, if you're building a truly lightweight (sub 5.5 lbs) rifle it might not matter too much.
Best Lightweight AR-15 Stock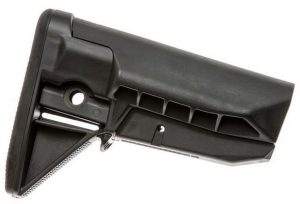 No, this isn't the lightest AR-15 Stock (we covered that just above) but it is the best lightweight stock because it's light without sacrificing all the typical stock features. Those who want to shave ounces with sacrificing adjustability, this is for you.
Weighing in at just 7.5 ounces, the BCM Gunfighter Mod 0 SOPMOD Stock is my pick for the best fully functional and lightweight AR-15 stock. (The SOPMOD version has an improved cheekweld compared to the original)
BCM is a universally well respected company.  In fact, BCM's about page says:
Bravo Company USA, Inc.'s Previous Customers Include:

HQ SOCOM (Special Operations Command), US Army, US Navy, US Air Force, US Marines, US Coast Guard, various Special Operations Units, Department of Homeland Security, US Border Patrol, American Embassies, Private Security Companies, Law Enforcement Agencies and Tactical Units, and responsible civilians.
BCM isn't a fly-by-night operation.  They are very serious about producing high-quality products and their customer list proves it.  In fact, in my Best AR-15 BCG article, I recommended their BCG if you planned to trust your life to your rifle.
Timothy over at The Firearm Blog has a long term review on the BCM Gunfighter that also shows some of the internal workings.  It even has the endorsement of Larry Vickers. I'll let him describe the features and this is one drop test you won't want to miss.
So if you're looking for an AR-15 stock that's lightweight and tough, the BCM Gunfighter is an ideal choice.
Best Precision AR-15 Stock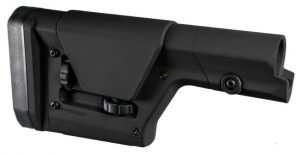 I almost feel bad about suggesting so many Magpul Products.  I mean, I don't get a kickback from them to promote their stuff or anything. (That was a hint if you're reading this Magpul.)  But I wouldn't recommend it unless it was top notch.
The price on the Magpul PRS (Precision Rifle Stock) is steep and there's no denying it. You can get a decent stock for precision work much less expensively (Like the Magpul STR above) but this article is about the best.  In my opinion, it's the best stock for a benchrest AR-15.
And I do mean ONLY for a benchrest rifle.
At almost 2 pounds, this thing is a beast.  You won't care on a range rifle, but if you intend to carry it anywhere, I'd pick a different stock.
You've heard the phrase "jack of all trades, master of none"?  Well this is a master of one: benchrest shooting

It mounts absolutely rock solid and is fully adjustable for length of pull and height of comb. (the comb is where you rest your cheek, not how you organize your hair. 😉 )  The Gen 3 version mounts to either an A2 buffer tube or a Standard Mil-Spec Carbine buffer tube.
The underside has an M-LOK rail to attach a mono-pod, and there is a QD mount and a sling loop on the side.
Conclusion
My #1 pick for a stock (if it wasn't obvious) is the Magpul STR.  It's an excellent and very versatile option because it's extremely tough, comfortable, includes storage, and is a good weight to help balance many rifles.
Otherwise, your pick will mostly depend on your mission.  So decide on your mission and pick the best AR-15 stock for that mission.