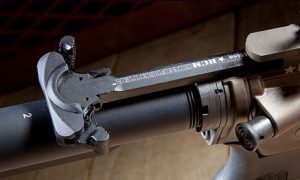 Upgrading to best AR-15 charging handle you can afford is a very fast and easy way to improve your rifle.  That's especially true if you consider how cheap and super simple it is.
Whether you're upgrading your rifle or building your AR-15 from scratch, I've put together a list of charging handles that are worth your attention.
(NOTE: This article is part of my "Best in Class" series where I list the top choices for various parts of your AR-15.  You can find the other parts here: Best in Class Articles.)

FYI: If you buy after clicking most of the product links on this page, I'll make a few pennies out of each dollar you spend.  It's not much, but it keeps the website going and I would appreciate your support. 🙂
BTW, most of the Product links on this page go to Brownells because of their 100% Forever Satisfaction guarantee.  That's a guarantee I can live with. 🙂
If you aren't completely, 100% satisfied with any purchase you receive from Brownells, for any reason, at any time, return it for a full refund or exchange. No hassle, no problem. And, we won't bog you down in endless paperwork. Your complete satisfaction with each and every product we sell is what's most important to us.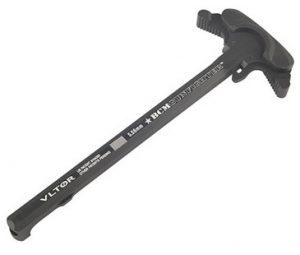 Ambi charging handles are something of a curiosity to me.   For left-handed shooters they are absolutely ideal.  For the rest of us they offer a degree of flexibility, but little else.
The BCM Gunfighting Ambi charging handle is the best of the best, top of the stack, crème de la crème of ambidexerous AR-15 Charging handles.
The original BCM gunfighter handle (covered lower down) already earned a reputation for being outstanding.  In fact, doing a Google search for the best AR-15 charging handles will uncover a host of forum threads asking which one is best.   Usually half the replies are votes for the BCM Gunfighter, and often it's more than half.
BCM built on this excellent reputation by adding an ambi version.  Just like the original, it's made from Forged 7075-T6 aluminum which has been Type III class 2 hard coat anodized per Mil-A-8625F.
In layman's terms, they built it to take a beating.
Like the original, it's ideal for one-handed charging.  In fact, it's exactly like the original except for the left-friendly latch.  When the original is so universally praised, that's a very good thing.
I trust it enough that I'd happily put it in a rifle I was taking to war.
Honorable Mention: Radian "Raptor" Charging Handle – $75
Equal in quality to the BCM ambi above, the Raptor charging handle is a direct competitor.  They're high quality and have gained a large following.   I prefer the BCM from a design standpoint, but the Raptor is no slouch.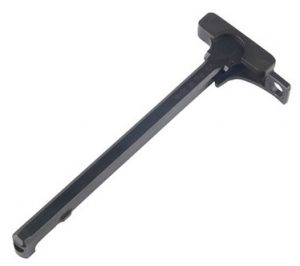 Are you one of those people who tends to break a lot of things?  Do you want the absolute most durable charging handle ever made?
Look no farther because this is it.
Unlike every other charging handle on this list, this one is made of Steel.
Not aluminum, but steel.
As strong as forged 7075-T6 aluminum is, it will never be as strong as steel can be.   This charging handle is absolutely rock solid. It's built like a tank and will take a huge beating without breaking a sweat.  Plus it doesn't twist or flex when you use it.
If you ever find yourself needing to do a Mortar clearing drill, you won't have to worry about this guy.
Additionally, because it's steel it operates more smoothly.  Aluminum has a high coefficient of friction, so an aluminum charging handle against an aluminum upper is slightly rough.  The steel slides much more smoothly.
It has an extended latch to make it easier to operate, especially when you have a scope mounted. Other notable features are it's made in the USA and fully CNC machined.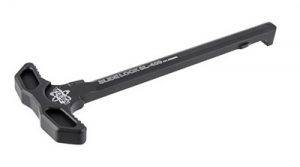 In my opinion, the standard AR-15 charging handle should have been designed more like this one.
The Mega Arms Slide Lock Charging handle doesn't have a conventional latch like every other charging handle.  It's a "latchless" design.  They rounded off where the "hook" would be on a normal charging handle.  Because they rounded off the hook, it acts more like a detent.  You can just pull without needing to manipulate a latch or lever.
Basically, spring pressure keeps it in place, so you can just pull it straight back.
Because of this, it's fully ambidextrous and dead simple to use.  Simply pull anywhere on the charging handle and it will charge your weapon.  Your fingers don't need to hit a latch or button.  Just pull straight back and you're good to go.
I do have to put a caveat on this one.  Some people have reported excessive wear on their upper where the a normal handle would latch because of the "detent" rubbing during operation.  Of course, if you had a Nickel Boron Upper (like I do) that shouldn't be an issue.
That one issue aside, I love the simplicity of this one.
All things considered, this is probably the best charging handle for most people.  BCM did everything right without adding expensive frills or features you don't need.
For starters, BCM makes these from forged 7075-T6 Aluminum which is one of the strongest aluminum alloys. (I contacted BCM directly because some claim they are billet.  BCM said they are forged)  The finish is hard coat anodized per Mil-A-8625F, Type III, Class 2.  For those who don't know, that's a really good finish.
It also have on other advantage that most other charging handles don't share.  BCM specifically designed these for one-handed charging.
Originally, you charged the AR-15 with the first two fingers of your hand.  Over time, techniques have moved to one-handed charging.  The problem is using only one side of the charging handle puts a LOT of strain on the tiny roll pin that holds the latch on.  Over time, the roll pin will weaken and break.
The BCM Gunfighter charging handles transfer the force away from the roll pin and onto the rear of the charging handle.  You can charge your AR-15 with one hand all day long and not worry about a thing.
All things considered, this is definitely one of the best AR-15 charging handles on the market.
Larry Vickers even recommends them.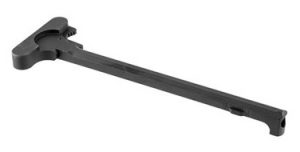 To be clear, this isn't a "take it to war" option.  It's a "I need a cheap charging handle for a rifle I'll only take to the range" option.
The standard AR-15 charging handle is nothing special.  It works the way Eugene Stoner designed it, but that's about it.  I know a lot of people that just build AR-15s to build AR-15s and they put a premium on price.
While it may not be ideal for Iraq or Afghanistan, it's perfect for a range rifle where you want to save some coin to afford more ammo.  It'll work just fine for that purpose.
Conclusion
Unless you need the durability of the Power Custom or like the Mega Arm Slide lock, I would get a BCM Gunfighter.  The reason I recommend them so highly is because they have a long and proven track record.  They work extremely well, they're tough, durable, and are perfect for one-handed charging.  You can go with either standard or ambi depending on your preference and budget.
There are a lot of really good AR-15 charging handles out there, but these are a few that are most worthy of your attention.